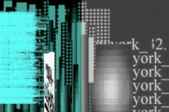 LA | NY A Special Edition of The East Village








Dennis Phillips

---


They will dictate and send massages in formal cornerings.

The movie will be exciting.

No beverage will suffice.

Over the call letters their anxiety will seem sincere,  while alone on
the tower a fact cannot be verified.

Their supplies are not without end.  They are the food chain's food
chain.  They are welcome anywhere.  They will welcome anyone.

While those others argue and posture.


---
Next