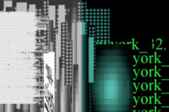 LA | NY A Special Edition of The East Village








Katy Lederer

---

Untitled


Clean
I wish to be

O, major or whatever.
So that I must lapse 
into this
disgusting tongue.

Rogue is like tongue
as is legend to bludgeon.

Like bludgeon the legend
kills us.

At night
the stars
are scattering.

A star is a point of light,
longer perceived
than aligned,
at night.

Rogue is like tongue
in that both of them
come into light
as disgusting
anatomy.

But I do speak
derisively
and align myself
with noon-day thrust--
to be naked
or nude
To be brightly lit
in barnyard
swoon.


---
Next