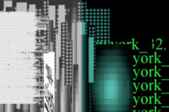 LA | NY A Special Edition of The East Village








Susan Landers

---

DIRTY WORMS MAY SCRATCH FLOORS, EXTRACT NO. 72


Leave extensive repair
to tinsel. Horsehair
herringbone floors.

Do not upholster
pineneedle paths.
Hand blow meringue

daisies, venetian lightbulbs.
Protect books
from pining minds

with roundly tipped
ball-and-claws.
Slap and tickle

your lineoleum
with surf and turf.
Dinner at eight

in the vermicompost
gallery. Watch the
squishy arms flail.


---
Next