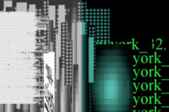 LA | NY A Special Edition of The East Village








Greg Fuchs

---

LVIII

        wack lineage
suit crawls along platform edge
of Path train drooling night's
anesthesia algorithm, generating
necklaces of knees against the torso.
What can you say about
suicidal tendencies
spoken lightly over pizza?
Finally letting go on the waterfront--
Lackawana Railroad containers,
commuters, combustible day
planners. A man sleeps in the foyer
of Tisch School of the Arts.
A doorman stokes the fire in the lobby
of a 5th Avenue townhouse. Poodle
warms itself. The fur coat shakes.
Friends sleep on the rug
I found on Lorimer Street. The Lotus Chief
Executive Officer slides down the side of Disney
Hyatt Regency in a pee yellow space suit
to the tune of I Am Superman;
the business and spirituality e-conference.

---
Greg Fuchs Index